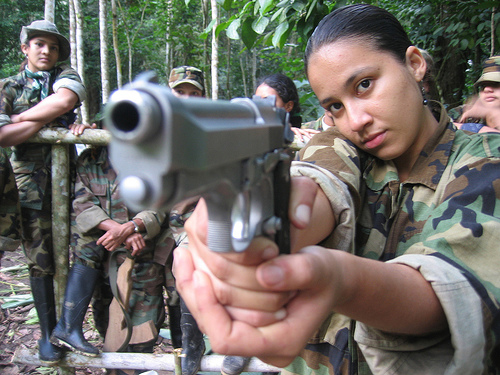 We left Capurgana on the early boat, fending off a sob story from a female Prince Harry look-a-like, all ruddy cheeks and plummy accent, who was bleating on about having to meet a friend in Cartagena that afternoon. The lazy mare hadn't got up early enough to get a ticket for the first boat, and was obviously angling to swap tickets with one of us. She hinted that she had no cash to even bribe the boatmen to let her on the already overcrowded boat. Talk to the hand, love.
Carpugana had been nice enough, but I wish I hadn´t spent my last birthday of my 30s there. And the diving was nothing to write home about, either; nothing much to see...and the highlight of the diving day was chatting in Spanish to the crew about Thai ladyboys (don't ask), English football (and what a horrible little cheat Maradona is) and girls. My Spanish now covers these important subjects. So it was actually nice to escape the border and pull into stinking Turbo before legging it to the bus station muy rapidamente.
We were lucky enough to get a bus ticket to Medellin, leaving in the next half hour. Enough time for a strawberry shake off the street, and a brief chat with a nice old lady. An even briefer chat was had with a lardy local teenager who walked past us with his hand outstretched, mumbling "Money for food...money for food..." through a faceful of crumbs. Think you've had enough, mate. You'd miss Turbo like you'd miss genital warts, to be honest.
Bus boarded, and we were away through the flat plains and into the hills. Soldiers are everywhere in Colombia, a visible deterrent to the Marxist revolutionaries
FARC
. Well, ex-revolutionaries; since Havana and Moscow withdrew their support, they've become nothing better than murderous bandits who traffic much of Colombia's coke,
kidnap the odd Westerner for a few years
, or kill civillians. So we were, naturally, keen to avoid them. The forested western coast of Colombia is one place they inhabit, the other being her inpenetrable Amazon Basin. Army units are working to exterminate them, and have a shoot-to-kill policy. The road to Medellin indicated how close we were to the active areas; instead of the odd soldier dotted along the highway every few hundred yards, it was jeeps with roof-mounted heavy machine-guns, sandbagged bunkers...and tanks. More reassuring than worrying, though. Besides, when FARC have ambushed buses, they are known to politely ask the passengers to disembark the bus with their baggage before the vehicle is torched. Jolly good of them, I say...mind if I take some pictures as you set it on fire? Thanks awfully, dear boy.
FARC moved into the vacuum left after Pablo Escobar´s death, and the subsequent fall of the
Cali Cartel
in the 90s. Before this Medellin, Escobar's hometown, was the centre for cocaine trafficking and responsible for 80% of Colombia's output. Cali handled the rest through direct links with
Curtis Warren
's mob in Liverpool, who in turn controlled shipments into Europe. Needless to say, it can still be a dodgy place.
The city is actually quite attractive, and the road from the hills into town is a pleasant introduction at night. We'd chosen to stay at Black Sheep Hostal, run by a knowledgeable Kiwi called Kelvin who reminded me of my mate Huw back home. Medllin is known for it's Coke Tourists, and the other hostels had a reputation as "party hostels" (read: full of fucking losers who think visiting Colombia is about spending weeks on end in your room filling your beak with white powder...more on these later). It probably didn't help matters that we'd arrived the night after a week-long flower festival...the city was suffering a collective hangover.
Black Sheep is in a smart residential neighbourhood, a ten minute walk from the bars and restaurants...and only 5 minutes from the Exito supermarket. It took me an hour to buy a tuna sandwich in here one day...the women of Medellin are gorgeous (one girl gave me a shot in a local bar one night, and she was that stunning I was actually frightened to strike up conversation with her...plus the fact her and a mate were with a bunch of dodgy-looking guys; could have been a trap). The plastic-surgery obsession is evident, though...you see a lot of girls walking around sporting bandages across their noses. It's either that, or they have a domestic violence epidemic here? For the first few days we were in an 8-bed dormitory; to say it stank would be an understatement. We badgered Kelvin to give us a private room, and we finally got one for the last few days. He asked me how I liked it: I told him it was like going from being inside the
Bangkok Hilton
to being inside Paris Hilton. He didn't laugh.